| | | | |
| --- | --- | --- | --- |
| The study room: Ideas for arranging: with colors! | | | |
What is the study room actually?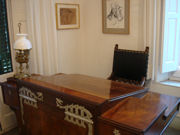 The study room or working room, is obviously the room at home where you do your work or study (things). People with a responsible job will have this room to keep business affairs seperated from private affairs. At least, try to.
It is a fact though, that the study room is one of the rooms where children are not supposed to come, so that they won't touch your (valuable) belongings. Of course, this room usually has a business-like ambiance in order to create a good working-and-studying environment. At least, most of the time...


What is a good working environment, differs from person to person. If you look at an office, you'll see that although the desks are the same, there will be significant differences: one is empty, another one full with paper. Another one can have lots of decorative items like flowers, photos and stickers. American offices are known for their so-called cubicles, which give a lot of privacy for the employee, whereas in Europe, the so-called open-door policy is more popular: anyone can walk in and out of any department, even the director's office will have an open door! At the Ferrari factory, they see it important to have a good working environment with nature in it, so they have trees growing there. If you look at other working places, you can be likely to find differences. Creative people for example would might prefer a more messy place to stimulate their creativity. Real artists have an atelier or workshop for that, which is much bigger than a normal study/working room, but for marketing people, interior decorators, software developers (this job also requires creativity sometimes) and architects, a study room should be big enough to do their work!
What is there in a study room? Furniture? Color!
Apart from the soft furnishings (floor, curtains) and other furniture, color in a study room is also an important thing that should be taken into account with. Perhaps you already know the color spectrum? Red, orange, yellow, green, blue and purble, also comparable with the colors of the rainbow. The colors that go towards red, are being called warm colors (including brown), and if we go towards blue, we get the more cold colors. The color red has much ado with emotion, while blue is more for the peaceful, calm and cool. A red room stimulates very well (think of our red Ferrari) and a blue room is more for a quiet environment, such as a mediterranean ambiance with the beautiful blue sea.
All right, so much for the basis. Of course, you can't have a study room only in one and the same color. Apart from that it's impossible, it will become one big camouflage-interior where no one can see anymore what's what. So: on to the next paragraph:


Combining colors!
Interior decorators will always be giving tips and pieces of advice on possible combinations of interior colors. Contrasting combinations can give a frivolous, feasty, or (post)modernistic atmosphere to your interior. Contrasting colours are ther also in differend types. You have the basic colors: black, white, red (vermillion), green (as grass) and blue (like aquamarine). With these colors, you can make a very distinctive environment, just like the house of Piet Mondrian or of Rietveld & Schröder. If we take the pastel colors (light blue, pink and light green), we'll be getting a very cheerful, sweet interior, just like they had in the Rococo period (between 1720 and 1765 A.D.). Combinations of other basic colors such as green, orange, red, blue, yellow and white give a very obvious and child-friendly environment.
Want to play with colors yourself?
An interior decorator will always show on his moodboard presentation which colors will be used for a room (see the living room or entry / hall page for example). Usually, these colors represent the significant characteristics of the collage itself. If these pictures are only in black & white, the colors will be black & white too. Reproducing a certain colour is quite difficult and takes quite a lot of time too. The best way of doing it yourself is by mixing different colors of acrylic or gouche tempera (opaque watercolor) paint, but every sample will have to dry before you're sure you have the right color, so a quicker way would be by getting a bunch of color chips. These are samples of a certain color for a certain paint. The code of that color gives a hint to your paint store how to mix the paint. That's one of the places to find your color chips.
The interior decorator usually cuts these colors out and pastes them on the moodboard at a place where it fits the composition of the collage.
Usually you can take these chips home for free, but if you want a whole collection of these chips, you usually have to pay (a lot in Europe) for these. Anyway, in a paint store, you'd might notice that there are numerous variations of the color black for example: vinyl black, raven black, soot black, etc. Vinyl black would fit very well with retro colors (think of the old LPs), while soot black will be better if you have charcoal in your concept (maybe some idea for a high-class hamburger restaurant?). Just to give an idea.
OK, and what about furniture?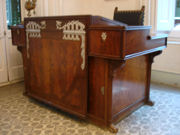 Apart from color, the furnishing also forms part of the interior. Or course. Usually, the furniture isn't very complex for a study room: some bookshelves, a desk, an office or desk chair and a table lamp to have enough light to do your work in the evening well. If you study interior design, you'll notice that the study room will be getting less attention, as the interior should be too distractive. Usually, it's the concept which expresses itself in the ambiance of the room is what counts. If this is good, in the first two rooms (hall and living room), the rest should fall into place by itself. However, there are still some aspects you could keep in mind when you arrange your study room. So, what kind of ambiance would you like to have? Business-like design? Colonial style if you like status? You can also choose for a more baroque style, which looks very impressive (maybe overdone?), or something more peaceful, combining mediterranean furniture.


What do you want more with your study room?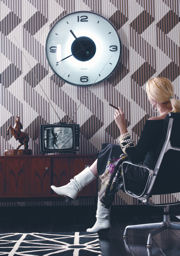 The rest is all up to you what you want in your study room. Do you get lots of colleagues at home? In this case, an extra desk might be useful. A big meeting table to discuss some plans? Or maybe you prefer your study room more for retreating from the hectic life? A place with a little more privacy than the other rooms? In that case, the arrangement of furniture could be a bit more cosy: a fauteuil (arm chair) or even a sofa, a salon table, fridge, cigars, inspiring work of art... Maybe you want your study room to be a place where only your intimate friends are allowed to come? Maybe you're carrying lots of secrets with you? Maybe you know these houses of long ago where the elite had a special room where no one could come?
One nice example is the home of the Mayor of Amsterdam: only the attick of his house is intended for private use. No one else is allowed to come there. Unless there comes another mayor of course. The rest of the home is property of the municipality of Amsterdam.
This can be the only room where secrets can be hidden. This could be art which people would find of questionable quality, such as delicate matters of belief or political questions which isn't presentable for the public, but maybe for a more private collection... I'm sure you already know lots of examples of "secret archives", or "cover ups".

So, although the study room doesn't get much attention, it is a room you can do lots of things with. Not only for working, but also as a room you can retreat for a bit more privacy, so you can do your thing without someone else to bother you.
© 2008 - 2012 Polymorph Interieur - Terms of Service (simplified) - Terms of Service -
Privacy Policy - Site Map - International